Enepro21 Energy simulation
Enepro21 development concept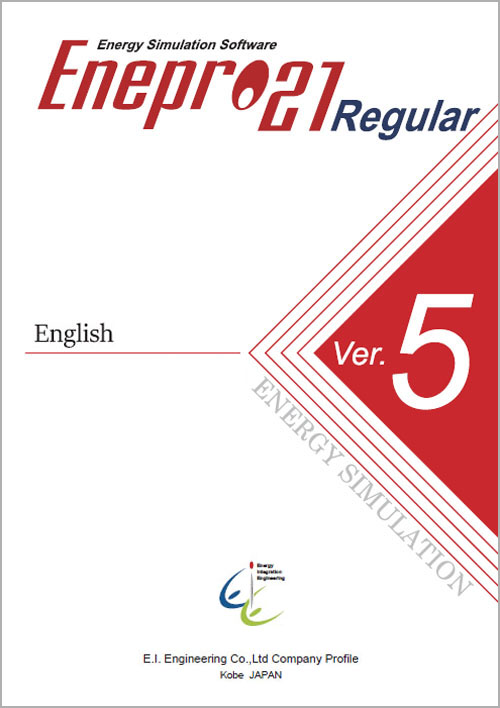 Energy simulation software that can support next-generation energy design and evaluation.
It is a software that has both high accuracy and ease of use, and has the same or higher ability and reliability as a professional engineer.
(1) Being able to flexibly respond to highly efficient system design that matches the characteristics of buildings, facilities, and local loads.
(2) The annual operation of existing equipment can be accurately reproduced on a personal computer, and accurate energy-saving diagnosis and renewal proposals can be made using this as a base case.
(3) Being "general-purpose technology software" that is easy for anyone involved in energy to use Enrich the built-in Help and publish the calculation formula to make it software that eliminates the black box.
Enepro21 Regular compatible heat source equipment
Features of Enepro21 Regular
Accurately reproduce existing energy equipment
With high accuracy, the annual operation record of existing equipment can be reproduced with high accuracy, and the error between the annual energy consumption and total energy of individual heat source equipment and the energy consumption of actual equipment can be reproduced within an error range of 1 to 2%.
This is because the balance of power, heat and flow rate can be accurately reproduced in the operating state.

The result of the air conditioning control system (temperature, humidity, outside air ventilation, etc.) on the secondary side (building side) is power load on the energy supply side (thermoelectric equipment side),
It is all integrated into the heat load and the temperature difference between cold and hot. The centralized thermoelectric equipment is based on the power / cold water / hot water load and the return temperature difference data of cold water / hot water as a result of controlling the air conditioning equipment on the secondary side (building side).
The simulation will be carried out.
Easy to build any heat source system
You can easily build a system by combining any system flow device.
The pump, attached cooling tower, and attached heat exchanger attached to the equipment are automatically connected.
The device type and type can be easily set by downloading from the "Enepro21 database".
The simulation results are output as forms and graphs.
All data can be output in Excel format.
It is a software configuration that is easy for customers to use.
Enepro21 Regular is Thermoelectric load creation program, Simulation program,
Enepro21 Utilization.
It is extremely easy-to-use software that integrates a data collection.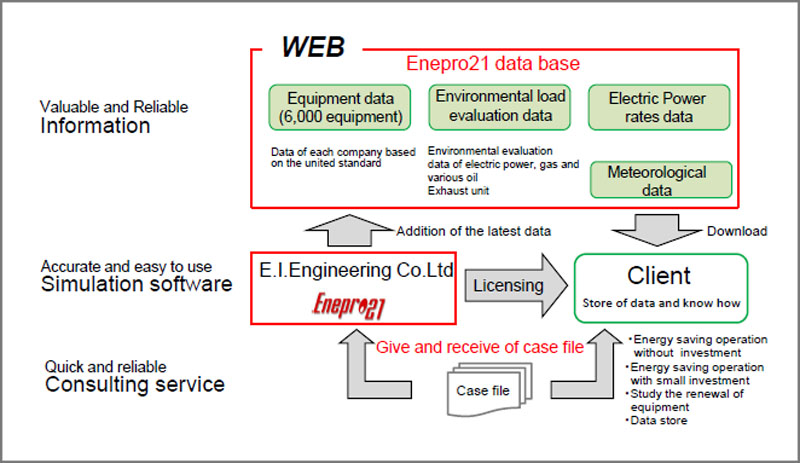 About Enepro21 Regular utilization data collection
We have prepared a collection of Enepro21 utilization data so that customers can easily execute simulations.
From the customer-specific site, access each database, download the necessary data, load it into Enepro21, and
It can be easily simulated.
About the Enepro21 database
This is a customer-only site. You can access it freely during the contract period.
From each database page, you can download useful data for simulation and load it into Enepro21 for use.