Enepro21 development concept
Energy simulation software that can support next-generation energy design and evaluation.
It is a software that has both high accuracy and ease of use, and has the same or higher ability and reliability as a professional engineer.

(1) Being able to flexibly respond to highly efficient system design that matches the characteristics of buildings, facilities, and local loads.
(2) The annual operation of existing equipment can be accurately reproduced on a personal computer, and accurate energy-saving diagnosis and renewal proposals can be made using this as a base case.
(3) Being "general-purpose technology software" that is easy for anyone involved in energy to use.
④ It is a software without a black box, with abundant built-in help and open calculation formulas.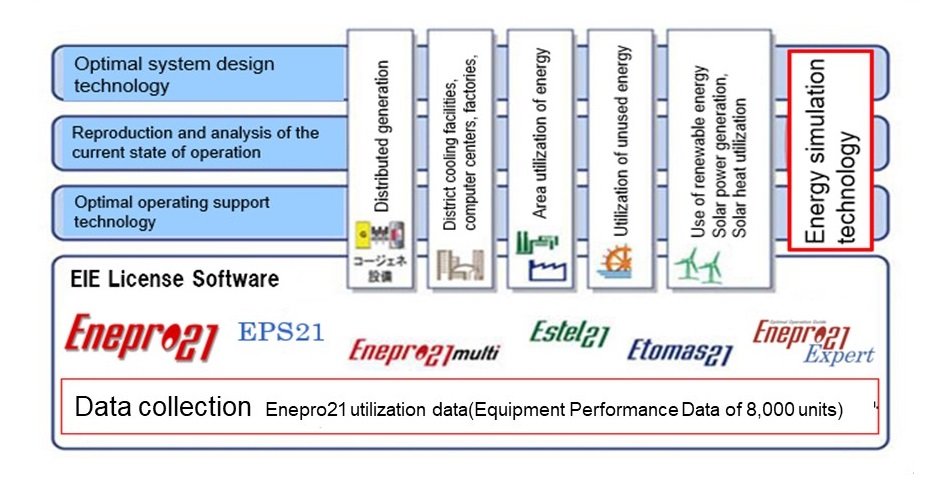 Features of Enepro21 Regular
Accurately reproduce existing energy equipment
Enepro21 is a general-purpose simulation software for heat source facility and can be usable all over the world.
・ The language of the software is written in English.
・The unit consists of SI units, which are international units common throughout the world.
・Solar power generation and solar heat simulations can be used in any country by setting the time difference     from Universal Time (UTC).
To meet the complex utility costs around the world, the "Detailed Utility Consumption List"
output outputs 365 days of hourly utility consumption in Excel format.
You can freely calculate the cost and environmental load by totaling with a macro and multiplying by the unit price.
Enepro21 can be used to design and analyze various centralized energy facilities such as power generation facilities (CCPP, GT, GE, fuel cells, storage batteries), renewable energy(solar energy, solar heat utilization). 
Enepro21 can reproduce the actual operation results of the existing facility within error rang of 1to 2 % per year.
(Accurately reproduce the operating state by making full use of convergence calculation to balance the power, heat and flow rate)
The results of the air conditioning control system (temperature, humidity, outside air ventilation, etc.) on the secondary side (building side) are all aggregated into the power load, heat load, and temperature difference between cold and hot on the energy supply side (thermoelectric equipment side)
Centralized thermoelectric equipment is the result of controlling the air conditioning equipment on the secondary side (building side), resulting in power, cold water, hot water load, and cold water, hot water.
The simulation will be performed based on the back and forth temperature difference data.

Easy for Engineers to use
If you need to consider a newly proposed facility, load the case file for the previously considered facility. By substituting the information and load of the proposed facility and new equipment, you can easily and quickly consider the newly proposed facility.
Several engineers, proposing their ideas, can construct a system of the new proposed facility together based on the common case file.
Until the adopted equipment data is obtained, the simulation study can be done in advance by downloading the similar equipment performance data from Enepeo21 data base.
The hourly calculation is done instantly, and the annual calculation result can be calculated in 1 to 3 minutes, so you can make various studies under different conditions.
You can easily create a report by outputting graphs and forms of calculation results to Excel.
There is a help function for each open screen, and the calculation formula is also described, so you can easily understand the contents.
There are considering a number of functions to prevent incorrect calculations and to display a warning to ensure correction if there is an input error.  
・Enter the outlet temperature of the equipment.
・The same device is duplicated.
・The temperature difference of the equipment is different.
Many useful functions are prepared for users.
・Enthalpy input function (pressure input MPaG)
・Calculation of pump capacity and pump efficiency
The equipment data can be reused between users by using the export/import function.
In case the priority of the equipment is set, the balance calculation is performed by considering both the flow rate and the amount of heat and starting up only the number of equipment required during that time period.
Even if the set number of equipment is insufficient, the calculation is completed and recorded by increasing the number of equipment at the end of operation priority without stopping the calculation.}
The necessary corrections can be easily considered based on the records.


Easy to build any heat source system
You can easily build a system by combining devices with any system flow.
The pump, attached cooling tower, and attached heat exchanger attached to the equipment are automatically connected.
The device type can be easily set by downloading from the "Enepro21 database".
The simulation results are output as forms and graphs.
All data can be output in Excel format.

It is a software configuration that is easy for customers to use.
Enepro21 Regular is (1) thermoelectric load creation program, (2) simulation program, (3) Enepro21 Utilization It is extremely easy-to-use software that integrates a data collection.

About Enepro21 Regular utilization data collection
We have prepared a collection of Enepro21 utilization data so that customers can easily execute simulations. from the customer-only site
Access each database, download the necessary data, load it into Enepro21, Can be easily simulated

Enepro21 Remote Desktop
Enepro21 users can access and use Enepro21 not only from within the company but also from home etc.
"Remote Desktop" is a good tool. Please consider introducing it as the corona wreck continues.
* For customers who have a license agreement for Enepro21.
Operating environment of Enepro21
Basic software: Windows 10/10 Pro 8.1 / 8.1 Pro
Computer body: CPU: Intel Pentium4 2.8GHz or higher recommended
Memory: 4GB or more when using on Windows 10/8
USB I / F: Connector Type A, USB 2.0 compliant
Hard disk: 30MB or more free space
Monitor: Resolution: 1440 X 900 or higher recommended
Software: Microsoft Excel 2010 or later must be installed

Simple printing of forms is possible with ENEPRO21 alone, but if you output forms in Microsoft Excel format, You can freely edit the format in Microsoft Excel and print it.